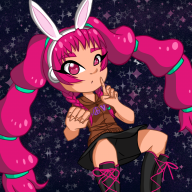 Gender:

Female

Birthday:

Mar 21, 2003

(Age: 16)

Location:

Occupation:

i sing a little
Loading...

Loading...

About

Gender:

Female

Birthday:

Mar 21, 2003 (Age: 16)

Location:

Occupation:

i sing a little

Hi! I'm Iris! I'm usually not this sane, but I feel like I should try to be serious for my UtaForum account.

Things About Me

Aliases: Iris(singing in anything but Korean, pretty much anything that's not listed), Haneul(singing in Korean), awesomejellystar(art), MAYU(art; preferred)

Gender: I don't care what pronouns you use for me, but I am female.

Age: 15

Spoken Languages: English, Japanese, Lao, Korean, limited Tagalog and Vietnamese.

Talents: Singing, drawing, rapping, dancing, memeing, listening to K-Pop

Sanity Level: Very low(have you SEEN my Soundcloud?)

Favourite Emoticon: orz(Seriously, I use it all the time.)

Constant Thought Process:

Bad Habits: Saying these words constantly: Like, So, And, Bruh, Why, Kill me, Help, AAAAAAAAA

Fandoms I'm Part Of

Vocaloid(obviously)

GHOST

UTAU(also obvious)

NU'EST(In L.O./\.E rn

ha ha I think I'm funny.

) Seventeen
BTS
TWICE

K-Pop in general

Twenty One Pilots

Fall Out Boy

Seremedy

Anime

Pokemon

Danganronpa

Hetalia(it counts as it's own universe)

My Digital Escape

Steven Universe

Minecraft

Mystic Messenger

Things you must know about me before speaking to me:

DO NOT on any terms mention the ocean or the beach. I have had a near-death experience at a beach in the states once, and I don't wanna remember it because it reminds me that I should of died that day and it makes me feel bad.
We do not mention my high voice. It's something I can't control, and I don't want to be picked on online too.

My linky-things whatever:

YouTube

(I sing stuff there.)

Soundcloud

(I make dumb things that you won't find on my YouTube.)

DeviantArt

(where my drawings and other dumb stuff is.)

Wattpad

(where you can read my crack stories.)

Tumblr

(where all the trash is.)

Love our short overgod Woozi.

Sprites by BambooGarden101

This is my child.

Sprites made by

Chickadee

,

BambooGarden101

and

Haneoka

.

Interact

Content:

NicoVideo ID#:

YouTube:

DeviantArt:

SoundCloud:

Tumblr:

PiaPro:

Twitter:

iris_dragonoure

Signature

oh hi i'm your local seventeen trash
i like nu'est and blackpink and bts too​

Loading...

Loading...