UTAU Profile
Western Name

Dora Hibisune
Eastern Name

日巣音ドラ
Release Date

November 17th, 2020
Gender

Not Applicable
Age

17
Height

163cm
Weight

63kg
Likes

Pranks, social meetings, school uniforms, loud music, carrots
Dislikes

Boring situations,
Hibisune Dora is a 17 years old high school student, they never mention their gender to anyone and loves to fake and mimic voices. They dyed their hair for a while to slightly match their odd eyes, and is never seen without their uniform. Dora is bright and cheerful, sometimes mischievous and prankster. They love to play and joke around, specially dialing random numbers to make fake calls.
Nationality: Brazillian/Japanese
Signature Item: Carrot on a stick (think of a marshmallow on a stick, but instead of the marshmallow, there's a carrot)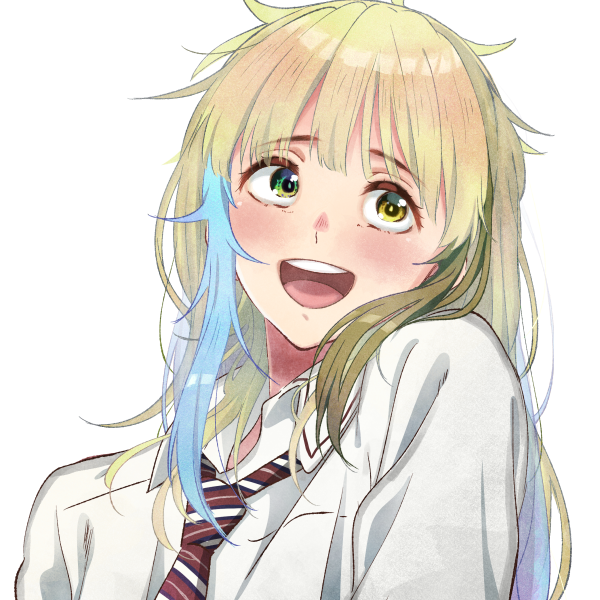 Voicebank Info
YouTube Sample
UTAU Manager

Ewudora
UTAU Voicer

Ewudora
File Encoding

Kana (Japanese) Filenames
OTO.ini Aliasing

Kana (Japanese) Aliasing
Voicebank Configured on

UTAU PC
Supported Languages

Japanese
This bank is a monopitch vcv set with three different voices, categorized as dreamy (default), shiver (masculine voice) and child (childish voice). All voices are compatible with the resamplers tn_fnds, w4u, vs4u, fresamp12, fresamp13, fresamp14, tips and resampler.
They have no flags and all of them have a pretty reasonable vocal range.
Terms of Use
Mature 18+ Works

Forbidden
Character Commercial Use

Permission Required
Voicebank Commercial Use

Permission Required
Derivative Characters or Voicebanks

Forbidden