UTAU Profile
Western Name

Imonai
Name Guide

Ee-Moh-nah-ee
Release Date

(Firstly released) 08/02/2018
Gender

Other
Age

20
Height

1,59cm
Weight

74 kg
Likes

-Singing
-Classical Music
-Space
-Threaters
-Purple, red and pink colors
-NieR Automata game
Dislikes

-Reggaeton (she hates it, yes, she, accepts female pronouns)
-Her own body (the snake of her lower body can talk through telepathy)
-Her shy self
-Not being able to have hands.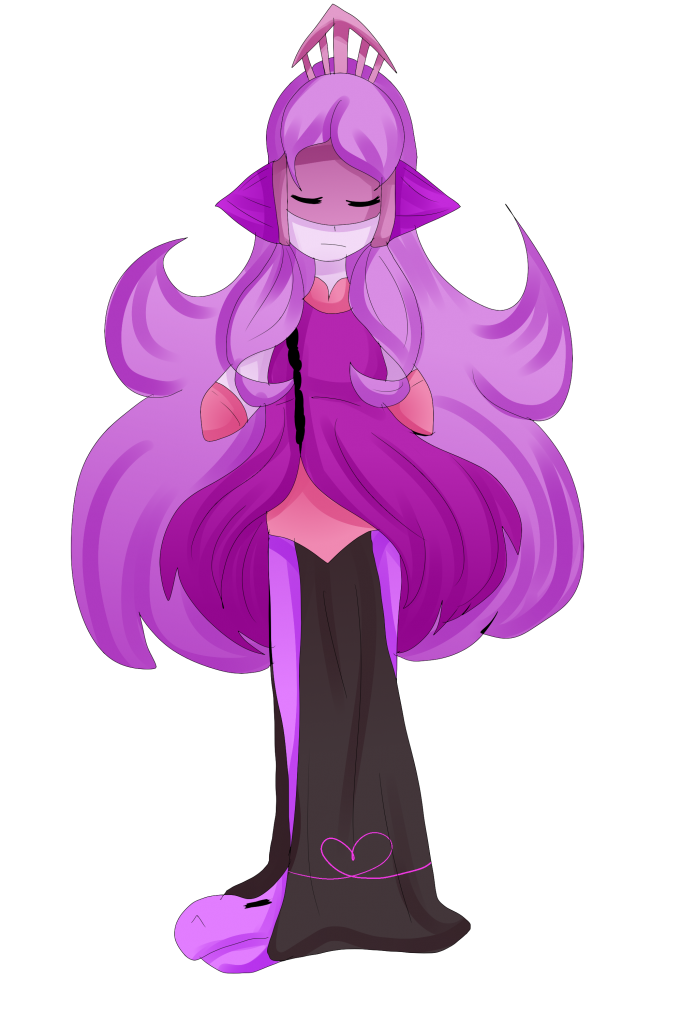 (Image above is her default design)
(Cover image is her [VOIR] 2.0 design!)
Age: 20
Gender: Indefined but she accepts female pronouns
Aliases: Imo
Hair: Long, purple-ish pink
Eyes: One red and other light purple
Body: Slightly curvy
Clothes: She likes long dresses and ponchos.
Personality: Kinda shy, but assertive if the situation requires it. She is often seen as the timid and kind one, but she can get her fury and determination if she considers the moment to do it. She was born naturally without half of the arms, but she had an infection in her legs which led her to get a very complicated and dangerous surgery to remove them and adapt her body to a new prototype, a snake prototype, doctors called it PROJECT HENMA, and after a very mortal surgery, she was connected to PROJECT HENMA, who is now Henmmanuel, her guardian.
Role: Leader
Engages with: Emillei
Voiced by: Lorea
Voicebank Info
UTAU Group

Divine Operaloids
UTAU Manager

Callitiga and Lorea
UTAU Voicer

Lorea (me!)
File Encoding

Romanized Filenames
OTO.ini Aliasing

Kana (Japanese) Aliasing
Voicebank Configured on

UTAU PC
Supported Languages

Japanese
English
Spanish
Chinese
IMPORTANT: SEE OFFICIAL WEBSITE LINK TO DOWNLOAD ALL HER CURRENT BANKS, the one in link is her [VOIR] 2.0, a CVVC+VCV lite.
----------------------------
[VOIR] 1.0

-Voice specifications:
-Core tone (Normal)
-CVVC Monopitch
-Language: JP.
-Resampler: Fresamp
-Oto.ini: LoreaMStudios
-Design: Callítiga
-Illustration: LoreaMStudios.
-Voice range: C4~E5 (Recorded at F#4)
------------------------------------
[VOIR] 2.0

Voice specifications:
-Core tone (Normal)
-CVVC+VCV Lite monopitch
-Language: JP.
-Resampler: TIPS, tn_fnds, fresamp
-Oto.ini: LoreaMStudios and Moresampler
-Design: LoreaMStudios
-Illustration: LoreaMStudios.
-Voice range: G#3~C#5 (Recorded at D#4)
---------------------------------------------------------
[BEAU] 1.0

-Voice specifications:
-Soft tone
-CVVC Monopitch
-Language: JP.
-Resampler: Fresamp
-Oto.ini: LoreaMStudios
-Design: Callítiga
-Illustration: LoreaMStudios.
-Voice range: F#3~B4 (Recorded at C#3)
---------------------------------------------------
[ZÏZE] 1.0

-Voice specifications:
-Strong tone
-CVVC Monopitch
-Language: JP.
-Resampler: Fresamp
-Oto.ini: LoreaMStudios
-Design: Callítiga
-Illustration: LoreaMStudios.
-Voice range: C#4~F#5 (Recorded at F#4)
THIS BANK ALSO APPEARS IN [ULMEN], SO YOU CAN GET IT AND EDIT IT.
----------------------------------------
[BÖRE] 1.0

-Voice specifications:
-Glitch-like tone
-CVVC Monopitch
-Language: JP.
-Resampler: TIPS
-Oto.ini: LoreaMStudios
-Design: Callítiga
-Illustration: LoreaMStudios.
-Voice range: C4~G#5 (Recorded at F#4)
PLEASE NOTICE THAT IM NOT GOING TO RELEASE THIS EVER. THIS WAS AN EXPERIMENTAL BANK.
--------------------------------------
IZO 1.0 (OLD)

-Voice specifications:
-Core (Normal) tone
-VCV Monopitch
-Language: JP.
-Resampler: Moresampler
-Oto.ini: LoreaMStudios and Moresampler
-Design: Callítiga
-Illustration: LoreaMStudios.
-Voice range: A3~D5 (Recorded at C4)
--------------------------------------------------
[IZO] 2.0 (OLD)

Voice specifications:
-Core (Normal) tone
-VCV Monopitch with breaths AND end breaths
-Language: JP.
-Resampler: Moresampler
-Oto.ini: LoreaMStudios and Moresampler
-Design: Callítiga
-Illustration: LoreaMStudios.
-Voice range: B3~D#5 (Recorded at F#4)
-------------------------------------------
[IZO] 3.0

Voice specifications:
-VCV
-Monopitch
-Language: JP.
-Resampler: fresamp or tn_fnds
-Oto.ini: LoreaMStudios and Moresampler
-Design: ???
-Illustration: LoreaMStudios.
-Voice range: F#2~E5 (Recorded at F#4)
-----------------------------------
[DÄRE] 1.0

Voice specifications:
-Varied voice type
-VCV Tripitch with extras
-Language: JP.
-Resampler: TIPS, Fresamp
-Oto.ini: LoreaMStudios and Moresampler
-Design: LoreaMStudios
-Illustration: LoreaMStudios.
-Voice range: G3~G5 (Recorded at G4)
----------------------------------------
VOICEBANK SETS
------------------------------
[ULMEN] 1.0

Voice specifications:
-Several voice types
-CVVC Quadrapitch
-Language: JP.
-Resampler: See the readme.
-Oto.ini: LoreaMStudios
-Design: Callítiga
-Illustration: LoreaMStudios.
-Voice range: F#3~G#5 (Recorded at F#4)
------------------------------------
OTHER LANGUAGES
--------------------------------------
[ARPASING] 1.0

Voice specifications:
-Core (Normal) tone.
-Monopitch Arpasing
-Language: ENG.
-Resampler: Moresampler
-Oto.ini: LoreaMStudios and Moresampler
-Design: Callítiga
-Illustration: LoreaMStudios.
-Voice range: A3~D#5 (Recorded at F4)
------------------------------------
[YUE] 1.0

Voice specifications:
- Core tone
-CVVC
-Language: CHN
-Resampler: Fresamp
-Oto.ini: LoreaMStudios
-Design: ???
-Illustration: ???
-Voice range: G3~D#5 (Recorded at E4)
------------------------------------
[MELANCHOLY] 1.0

Voice specifications:
- Core tone
-CV-VC
-Language: SPN
-Resampler: Moresampler
-Oto.ini: LoreaMStudios
-Design: Lorea
-Illustration: Lorea
-Voice range: G3~D#5 (Recorded at E4)
Terms of Use
Mature 18+ Works

Permission Required
Character Commercial Use

Forbidden
Voicebank Commercial Use

Forbidden
Derivative Characters or Voicebanks

Forbidden
Full Terms of Use
Welcome to the Voicebank page... Please read the terms shown here.
Contact me in Twitter: @LoreaMStudios
Or deviantart: LoreaMStudios.
Voicebank Terms of Use
Attribution
When publishing work using this voicebank, you are required to state the name of this voicebank.
You are required to state the name of this voicebank's author.
When attributing the name or author of this voicebank, you must write the names exactly as written above. You cannot call the voicebank by any other name, nor can you attribute the voicebank to any other author.
Usage Content
Seek author permission to create sexual content.
Seek author permission to create violent content.
Seek author permission to create political content.
Seek author permission to create religious content.
The following types of content are unconditionally prohibited:
- Criminal or illegal content
- Explicit underage sexual content
- Bigotry and hateful content
Commercial Use
You cannot use this voicebank commercially. All usage of this voicebank must be strictly non-commercial.
Editing
You are only permitted to clean or enhance this voicebank's audio. You cannot edit the audio in any other way.
You are free to edit any configuration files, such as oto.ini or FRQ files.
Redistribution
Before this voicebank is discontinued, you are free to redistribute part or whole of this voicebank in any way, with or without edits, as long as you correctly attribute the voicebank name and author, and clearly state any changes you have made.
After this voicebank is discontinued, you cannot redistribute it.
You are free to share rendered singing vocals created with this voicebank.