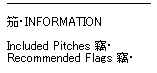 I tried testing the character.txt and readmore.txt files for my UTAU (before recording her) but the characters came out all garbled.
My locale has been set to Japanese for over a decade and UTAU works completely fine otherwise.
Katakana shouldn't be an issue and I've seen the other symbols used for other readmores.
I just have no idea why these files specifically are having issues.
Any ideas on what's going on?