MelodiaSynth - Web Vocal Synth in development
What is MelodiaSynth?
MelodiaSynth is a WIP cloud-based alternative to the UTAU front-end program.

Why does this exist?
UTAU's front-end was developed with frameworks that will soon no longer be supported by Microsoft. The lack of updates from UTAU's original developer is worrysome, as there is no guarantee that the software will continue to work in future versions of Windows. Melodia Sequencer is an attempt to replicate, improve and extend UTAU's functionality using new technologies, while eliminating problems that plagued the original software, particularly locale.
What are the advantages of MelodiaSynth?
Melodia runs on a browser, so it is completely cross-platform. Since the rendering is done in the cloud, the user does not need to change their computer's locale in order to create, edit or render projects. Furthermore, the rendering is done in parallel, taking less time to finish than a default installation of UTAU.

What are the disadvantages of MelodiaSynth?
The rendered output needs to be downloaded from the server, so slower internet connections might result in slower render times. However, due to MelodiaSynth having a lower render time than UTAU, this is compensated to some extent. Also, as the software is still in development, not all features have been implemented. Needless to say that it does require an internet connection.

What browsers are supported?
The project is being tested against the latest versions of Chrome, Firefox and Opera. Although untested, it should work on Safari.
Microsoft Edge, Internet Explorer and all mobile browsers are not supported and may or may not work with limited functionality.

Where can I get it?
Melodia can be accessed for testing at https://melodiasynth.com/
What voicebanks are available?
Once you create an account, you must upload a CV voicebank at
https://melodiasynth.com/creator
.
Click on the + button on the top left corner, type the voicebank name and drag all .wav/.ini files to the upload area. Wait for all files to be uploaded and return to the sequencer.
Is the source code available?
The front-end sequencer code is available at [removed]
Media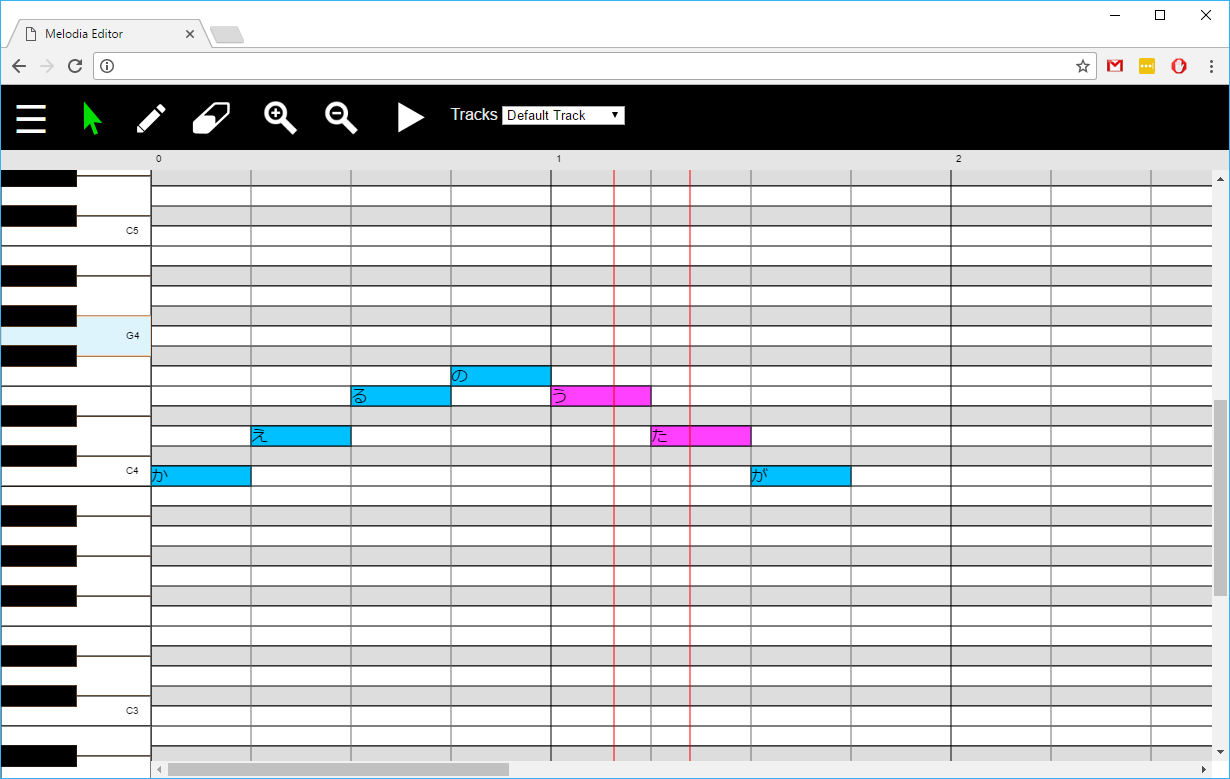 The goal of this project is to create a web-based UTAU front-end that can be used in any browser, regardless of locale settings or operating system.
No more downloading, installing, changing locale settings, opening virtual machines or fighting against resamplers under wine! Everything will be easily accessible through a web browser and the rendering will be done asynchronously in the cloud. It aims to maintain full compatibility with current resamplers and voicebanks, as well as UST files.
Eventually it will allow users to upload voicebanks to their accounts and easily share them with other users.
As of now, the project is still in its infancy, being tested as a proof-of-concept.
You can add, edit, remove and move individual notes or regions vertically. Rests are invisible and handled internally to emulate a rest-less system. Zooming in and out has been implemented, and support for time signatures other than 3/4 and 4/4 is possible. Switching between tracks seems to be working.
I'm temporarily hosting it at http://redelee.ddns.net:25565/ for back-end testing. It is using Defoko's voicebank (with kana and romaji alias). Feel free to check it out if you're curious, although I cannot guarantee that it will be up at the time you're reading this. Feedback is welcome!
Last edited: