UTAU Profile
Western Name

Daiki
Eastern Name

大貴
Name Guide

Die Key
Release Date

4/9/17
Gender

Male
Age

16
Height

5'7
Likes

Gaming, hair dye, smartphones, food, lounging around athleisure clothes
Dislikes

Cleaning, showering (unfortunately), exercise, old technology, social situations, working in retail and clothes with structured fabric
Feel free to join his fanclub!
http://utaforum.net/threads/daiki-fanclub.16686/
Daiki is an UTAUloid created by FiftiesYoungin. He originally started out as a simple CV voicebank with only a 'Nya' sample but then he got a full CV voicebank which was quickly followed up by a VCV voicebank, a soft CV voicebank, an Arpasing english voicebank and others that weren't released publicly. All of his past voicebanks are considered discontinued but they can still be downloaded from the old MediaFire link on this thread but his newest work in progress quadpitch VCV voicebank is up for download from the YouTube link and his VCCV english voicebank will be released soon after his VCV quadpitch voicebank is completed!
Art (make sure to credit me if you use it)
Daiki VCV Quadpitch Main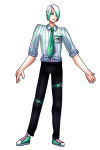 Daiki VCV Quadpitch Alt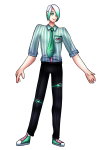 Daiki VCV Quadpitch Dark shirt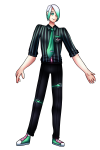 Daiki VCCV English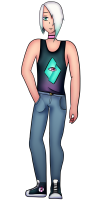 Voicebank Info
YouTube Sample
UTAU Manager

FiftiesYoungin
UTAU Voicer

FiftiesYoungin
File Encoding

Kana (Japanese) Filenames
OTO.ini Aliasing

Kana (Japanese) Aliasing
Voicebank Configured on

UTAU PC
Supported Languages

Japanese
English
*VCV Quadpitch: This serves as his main voicebank and it's currently in beta with the highest 3/4 pitches otoed

*VCCV English: A completed but yet unreleased English voicebank for Daiki Otoed by PartialKakera
Terms of Use
Mature 18+ Works

Permission Required
Character Commercial Use

Permission Required
Voicebank Commercial Use

Permission Required
Derivative Characters or Voicebanks

Forbidden
Full Terms of Use
VOICE

Do not redistribute

Do not use for pitchloids, fanloids or derivatives

Do not use for 18+, gore or sexual uses without permission

Do not use for commercial or doujin works

While using this voicebank FiftiesYoungin is allowed to make you remove any content or restrict you from using the voicebank

Do not use any of the files outside of UTAU without permission

Credit FiftiesYoungin when used



ART

Credit FiftiesYoungin for the art

Do not edit this art

Do not trace this art

Do not use this art for any other characters besides the intended character