I was making a voicebank and I wanted to make a separate oto with a Hiragana alias. So my UTAU would have a separate Romaji and Hiragana Voicebank. Here's what I did:
1. I copy pasted the whole voicebank and pasted it somewhere else to rename the folders as the Hiragana bank.
2. I opened the oto file in notepad to manually re-alias the whole bank. The encoding was UTF-8
3. I saved the oto files.
4. I opened them back up on notepad again to check if it saved properly, it did. The Hiragana was there.
5. I loaded up the bank in UTAU and all my aliases turned into Chinese-like symbols.
6. I closed UTAU and opened the oto files in notepad to find that they all turned into those symbols.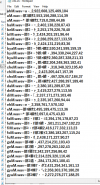 At this point I really don't know what to do