So, 1st Place finally revealed the name of the elusive "H" character.
For those who are unaware, "H" was a vocal that 1st Place announced for VOCALOID4 back during one of IA and ONE's anniversary events back in 2016. However, they told us practically nothing about it other than it would be a VOCALOID4 project, along with some photos of a female model in a strange outfit doing some weird poses. It wasn't even certain that she was a member of the "ARIA ON THE PLANETES" series, since her key visual depicted a human model, and not an illustration. For several years, there was total radio silence, until May 2020, where it was confirmed by 1st Place that "H" had been cancelled, revealing no other new information at the time.
That is until earlier this year, in a key visual for IA's 9th and ONE's 6th anniversary Event, that they showcased a third character, who had a notable "H" on her outfit, and up until recently, was called "H" by 1st Place, as well as being tagged as "H" in official posts by 1st Place on YouTube Community posts. With that in mind, it's likely safe to assume that this is the same as, or at least related to, the "H" from the announcement back in 2016. Aside from her, two other character within the "ARIA" universe were also revealed, though they seem to be mostly related to their world, rather than characters who are intended to receive synthesizer voicebanks. "H" has since been confirmed to be a member of the "ARIA ON THE PLANETES" series.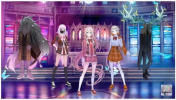 Earlier yesterday, 1st Place revealed the name of the character as "HIPPI" ( ヒッピ ), while also starting a Campfire crowdfunding campaign for a VR concert featuring the three (
which can be found here
), with this being "HIPPI's" first live performance. In the associated visual, it also shows her character design without her mask.
I have put her in the CeVIO section, since CeVIO AI seems to be IA and ONE's primary engine for the moment, so it seems likely that HIPPI will likely receive voicebanks for that software too. I noticed that nobody seemed to be talking about this, especially in English-speaking communities, despite the fact that this seems like a bit of a big deal, so I figured I'd create this thread for people to share their thoughts on her and gather other information.